India rape verdict: A step toward freedom from sexual violence
A guilty verdict in India for four rapists marks the world's slow but steady progress toward ensuring a woman's right to bodily integrity. New studies give hope that societies will see that rape is not a fact of life.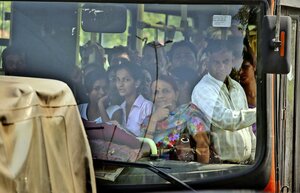 AP Photo
Like many countries before it, India took a big step Tuesday toward changing the notion that many women must always fear being raped. A special court in India found four men guilty of the gang rape and murder of a young female student in Delhi last December.
That horrific crime, and now its verdict, set India on a path toward ensuring women have a right to bodily integrity and greater freedom from sexual violence.
The high-profile crime spawned mass protests in India and drove the passage of new laws to better protect women, such as criminalizing the act of stalking and punishing public workers who fail to register a rape complaint. Reporting of rapes has risen, indicating a crack in the social practice of women staying mum about an assault. Police are adding more female officers. Sex crimes are now assigned to special fast-track courts.
More survivors are offered immediate health care. News outlets cover the crime more often. And politicians are on notice to back even tougher measures and to not say, as many do, that those raped have themselves to blame.
The verdict in India came just as the United Nations released a study of rape across six nations in Asia, from Sri Lanka to China. More than 10,000 men, both urban and rural, were asked in confidence if they had raped someone and, if so, why. The results were both startling and hopeful.
---