US-Russia talks on Syria: A balance of ideals, interests
In the US-Russia talks on Syria's chemical weapons, the two countries may clash over Moscow's interests and American ideals. Such disputes can be resolved, as US history shows.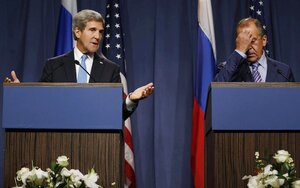 AP Photo
If each American could be a fly on the wall during the Russian-US negotiations over Syria, they might witness a traditional clash between Russian "realism" over the country's own national interests and American "idealism" over a moral issue like chemical weapons.
This type of confrontation has already played out over Syria – in public. On Tuesday, for example, President Obama said the United States was an "exceptional" nation that must stand for global values, such as the international chemical weapons ban. On Thursday, Russian President Vladimir Putin denounced such an American presumption of superiority as "extremely dangerous."
Mr. Obama said the US has been "the anchor of global security" based on its unique "burden of leadership." Mr. Putin says the US must act abroad only with the approval of the United Nations Security Council – meaning, only without Moscow's veto – as this was in America's "long-term interest." (He didn't describe it as an ideal.)
This fundamental conflict, in which Russia operates almost solely on geopolitical interests and power relationships while the US usually starts out asserting its ideals, is what must be resolved in the talks over Syria. Then perhaps the two countries can come up with a diplomatic resolution on Syria's chemical weapons. (Basic facts also need resolving: Putin disputes Obama's statement that the Assad regime carried out the Aug. 21 gas attack.)
---