A German election – and leadership style – worth watching
Germany's Sept. 22 elections seem set to return Angela Merkel for a third term. Her leadership style has become indispensable to Europe's future. Why are her qualities of character so effective?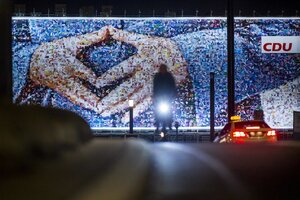 Reuters
When asked to explain President Obama's cautious moves on Syria, White House press secretary Jay Carney claimed the American people appreciate a leader "who doesn't celebrate decisiveness for the sake of decisiveness." He might as well have been describing the leadership style of Angela Merkel.
The German chancellor, who does her own grocery shopping, has been thrust by the eurocrisis into becoming the most powerful leader in Europe as well as the world's most powerful woman. Her careful, step-by-step style of decisionmaking has steadily pulled the Continent back from a financial abyss. Her political skills at home – quietly stubborn but tactically flexible – have made her Germany's most popular politician. In federal elections on Sept. 22, she is expected to win a third term, perhaps becoming Europe's longest-serving female leader.
Germany today has become the world's most popular country, according to a BBC survey. It has also become Europe's indispensable nation. The export giant has financially rescued the eurozone's less-disciplined countries – a dominating role that would make any postwar German leader somewhat uneasy, given the country's past. The charisma-free Ms. Merkel has also led talks to redefine Europe's grand experiment in unity.
---