Ending the hypersexualization of girls
France's move to ban beauty pageants for underage girls won't stop a trend toward Miley Cyrus-style sexual exhibitionism. Girls need to learn values that reinforce their worth beyond beauty and sex.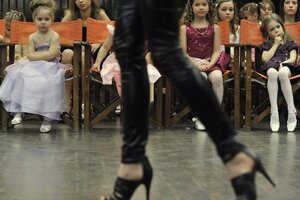 AP Photo
France has now joined a global struggle against the sexualization of women, especially girls, in public. On Wednesday, the French upper house of Parliament voted to end beauty pageants for girls younger than 16.
The bill, which must still be approved by the lower house, was introduced to fend off a growing popularity of such pageants but also in response to public outrage over a French Vogue photo spread showing child models in tight dresses, lipstick, and high heels. Many in France were also upset that the company Jours Après Lunes came out with a line of "loungerie" – a mix of loungewear and lingerie – for girls as young as 4.
"Let us not allow our girls to think from a young age that their worth is judged only by their appearance," said Sen. Chantal Jouanno, a champion of the pageant ban.
The proposed law is harsh. It would punish the organizers of pageants for underage girls with as many as two years in jail and a $40,000 fine. The problem with such government action is that it doesn't address the basic problem of parents, mainly mothers, who push girls to become beauty queens or models, often forcing them to portray the hypersexualized looks of, say, a twerking Miley Cyrus.
In the United States, social campaigns are better at fighting back the trend to show young girls as alluring, even Lolita-ish. When TLC showed a 3-year-old beauty contestant dressed as a prostitute like the Julia Roberts character in the film "Pretty Woman," the cable channel heard about it from activists and advertisers.
---