Church bombing in Pakistan: Why it still ricochets
The public reaction to a terrorist attack on Christians in Pakistan reflects a similar pushback by moderate Muslims in Egypt and Tunisia. Civic values such as religious tolerance are at stake in this latest struggle for Islam.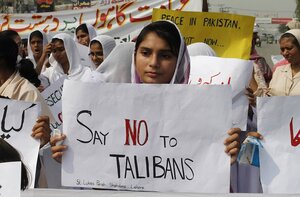 Reuters
Sunday's suicide bombing of a Christian church in Pakistan continues to shake the largely Muslim nation. The government declared three days of mourning for the dozens killed. Thousands of people, from lawyers to students, have joined Christians in countrywide protests.
Just as important, the terrorist attack – which two groups with Taliban links have claimed responsibility for – has pushed many moderate Muslims to look again at how government itself treats religious minorities, including Shiites. At least one major party, the Pakistan Movement for Justice, wants a review of strict blasphemy laws that severely penalize any perceived critic of Islam. In the past, politicians have been shot for even suggesting such a move.
If Pakistan now acts to ensure that civic values such as freedom of conscience play a dominant role over radical Islam, it will not be alone in the Muslim world. In recent weeks, both Egypt and Tunisia have seen popular uprisings against Islamists who try to impose their interpretation of the Quran on government or who exclude from power those who disagree with them.
Unlike the Arab Spring, which was largely a movement against secular dictators, the struggle in these three countries is now over Islam itself. The dividing line is pretty clear: Is society better off living by the rules of a particular faith or by an official tolerance toward many faiths?
---