Are voters responsible for a government shutdown?
A federal government shutdown isn't only a function of leaders who are unable to balance principles and interests. Voters also add to gridlocked government rather than Goldilocks cooperation with a winner-take-all view and by being politically disengaged.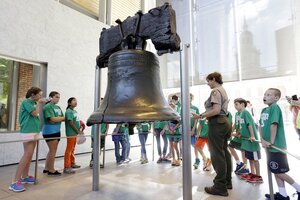 AP
A government shutdown is a mighty weapon to wield in American politics. It towers over a Senate filibuster, the gerrymandered district, or the walkout of one party in the House. It goes far beyond the tools of blockage provided in the Constitution, such as the presidential veto or the Supreme Court ruling overturning a law of Congress. It is gridlock writ large upon the daily lives of the American people.
Yet even as blame for a shutdown is assigned to one party or both – or only the tea party – Americans need to recognize how much they created this gridlock instead of a Goldilocks government of not-too-hot-not-too-cold cooperation.
One icon of common-ground governance, former Supreme Court Justice Sandra Day O'Connor, warns that democracy only functions with engaged citizens. But, she points out, one-third of Americans can't name the three branches of government – let alone say what they do. More people know the names of judges on "American Idol" than on the Supreme Court.
Even for those who have passed a civics exam, a shutdown is a wake-up call to the cost of assuming politics is only winner-take-all. The just-released edition of "The Almanac of American Politics" explains why Washington has all but ground to a halt because of that Manichean belief:
"After the 2004 election, there was speculation that the country was headed toward a permanent Republican majority, and after the 2008 election, there was speculation that it was headed toward a permanent Democratic majority. The results of the 2006 and 2010 elections ended such speculation. The results of the 2012 election revealed an electorate that is closely divided, as it was during the years from 1995 to 2005, and increasingly polarized, demographically and geographically."
---