Obama's pressing 'pivot' to Asia
Despite the government shutdown, Obama wisely plans to attend the Asian summits and show the US has staying power in shifting its foreign focus toward Asia – and balancing a rising China.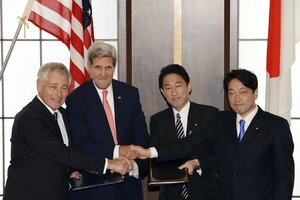 AP Photo
With a crisis in Washington, President Obama canceled half of his trip to Asia for next week. He still plans to attend the region's two big summits of various Asia leaders in Bali and Brunei. Fortunately, more leaders than ever in Asia represent democracies. They, more than the authoritarian rulers, will understand his dilemma.
Asia's democratic progress in recent decades bodes well for Mr. Obama's still-unfulfilled plan to turn US foreign policy more toward the region. He has ample backing in Congress for his "pivot" to Asia. And polls show more than half of Americans see the region as the most important part of the world.
Still, US allies in Asia worry about Obama's staying power. His cancellation of trips to the Philippines and Malaysia sends a symbolic message that the US is not a committed partner or a reliable counterweight to China's growing military and economic clout.
---