Britain's battle against online porn
Prime Minister David Cameron steps up his plan to guard children from the effects of Internet pornography. Even credit-card firms that deal with porn sites may be enlisted. Britain could be a model in how to fight the sexualization of children.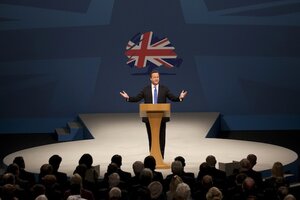 AP
In a recent survey of British teens, a third said online pornography now shapes their everyday romantic relationships. This only confirms an insight by Massachusetts Institute of Technology professor Sherry Turkle that new technologies such as tablets and smart phones should be judged "not for what they do for us but what they do to us, to our ways of thinking about ourselves."
The poll also helps confirm the wisdom of a new campaign by British Prime Minister David Cameron aimed at restricting access to online pornography by children. Announced in July, his plan is making progress in pushing Internet providers to offer broadband customers an explicit choice on whether to opt in to Internet porn.
The Internet started more than two decades ago, and since then broadband companies have become passive purveyors of porn to kids. "Too often in the past we have been happy to say 'anything goes,' " said British Culture Secretary Maria Miller in a speech last week. "Well – it doesn't."
Britain's new Web filters will be voluntary, thus skirting free-speech concerns but nonetheless putting up new digital road bumps. In the United States, children start to access hard-core pornography at an average age of 11, according to the activist group Enough Is Enough, while four out of five 16-year-olds regularly look at Web porn.
Britain's Conservative-led government is also now reportedly asking credit-card companies to stop providing financial services to porn sites that allow access to children. Such a measure would add another layer of protection and reduce the ability of teens to get around the new filters. In a parallel effort, the government is working with search engines such as Google to block access to porn sites depicting sex scenes with children.
---