At the dawn of 2012: future imperfect
(Read article summary)
Predictions are tough, said Yogi Berra, especially about the future. So when you finish reading all the forecasts for the new year, step back and remember: The world's not going to end.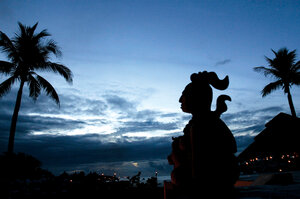 Irael Leal/AP
We can laugh about it now, but in 1999 many serious people were concerned about the Y2K computer bug the bringing modern world to its knees. Combined with the millennial turn of the calendar, Y2K prompted all sorts of predictions about what the new year would bring. Some were optimistic. Some were ominous.
Jan. 1, 2000, dawned. Nothing bad happened. Perhaps all the worry caused responsible people to fix their computers. Or maybe it was just hype to begin with. The main point is that no one got the future right.
We seldom do. In his 2011 book, "Future Babble: Why Expert Predictions are Next to Worthless, and You Can Do Better," Dan Gardner explores famous forecasts and why they failed. There are many reasons we get the future wrong, he says. For one thing, we predict based on the present, so the future is an extrapolation, a pumped-up version of today. That's why in the 1930s prognosticators saw flying cars but not the Internet, enormous battle tanks but not stealth drones.
We also generally stay with conventional wisdom. If everybody in the late 1980s says the Japanese economy is unstoppable, no one breaks from the pack to predict the lost decades of the '90s and '00s. What does that say about China now? "Take a coin from your pocket," Mr. Gardner writes. "Flip it. You'll have a 50 percent chance of being right, which is as good as that of the experts."
That wisdom can be applied to the stock market, to politics, technology, consumer tastes, and most complex events. So why bother predicting? Because we have no choice. We try to make sense of the unfolding future as we travel toward it. Gardner's best advice: Bring a large suitcase of humility on your journey. "Stride confidently forward in the dark and you're likely to feel quite pleased with yourself right up until the moment you walk into a wall."
---