Green energy isn't always good energy
(Read article summary)
Wind, solar, hydro, and geothermal seem mostly benign -- in part because they are still a small part of the energy equation. But when green gets big, it can be controversial.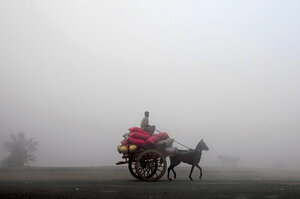 Mohsin Raza/Reuters
Solar, wind, hydro, and geothermal are widely considered benign energy sources. For the most part, they are. They harness nature without producing noxious emissions or significant waste streams. They don't require strip mining, punching a hole in the seabed, fracturing bedrock, or splitting atoms. From sailboats to south-facing gardens, hot springs to millstreams, green energy's friendly reputation predates hydrocarbon and fission by centuries.
But in their modern application, even these ancient energy sources have downsides. Most photovoltaic cells, for instance, contain nitrogen trifluoride, which the Scripps Institution of Oceanography says is a potent greenhouse gas when it escapes into the air. Solar cells also block sunlight from grass and flowers that otherwise would bask in it. When you dam a river, you constrict fish migrations and deprive alluvial plains of nutrients. Geothermal often means power plants atop scenic areas. And wind, the subject of this week's cover story, needs enormous wind turbines. Birds and bats fly into them. Noise and visual pollution can be annoying.
Wait. I know what you are thinking: Green energy drawbacks are tiny compared with Chernobyl, Fukushima, the Exxon Valdez, the BP oil spill, and global warming. Absolutely right. But part of the reason the drawbacks are minor is that green energy is still a fraction of overall energy production. A few windmills on the Zuider Zee are as charming as tulips and wooden shoes. But when you erect acres of wind turbines, you've got a scale problem.
---