Reinvention: The rewards of trying again
(Read article summary)
First-time wonders deserve our awe and applause. But almost every good thing in life -- from careers to ideas, products to poetry -- is more reinvention than invention.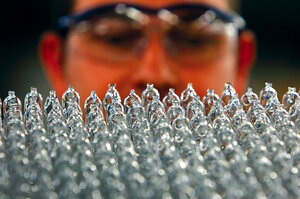 Vincent Kessler/Reuters
Who doesn't love an invention? Think of the light bulb, which had never shined in all of history until Thomas Edison switched it on on Dec. 31, 1879. Think of lasers, helicopters, microchips, elegant equations like E = mc², and even modest wonders like batteries, Velcro, and air conditioning. We honor inventors, enrich them, ask them about the meaning of life.
Reinvention isn't in that league. The tip-off is the "re," meaning it's been done before. If invention is the dazzling hit, reinvention usually begins as a miss. But a miss that is taken back into the workshop, rethought, reworked, and brought out for a second, third, or fourth try can change the world. The light bulb, for instance, only stayed lit after it hadn't at least 6,000 times. Each time, Edison and his co-workers took stock of what went wrong, made improvements, and tried again. His invention was a serial reinvention.
For many workers in the wake of the 2007-09 recession, reinvention has not been by choice. Nor has it been easy. But here's what re-invention always is: necessary.
For one thing, economic survival depends on reinvention. Job security has all but vanished in most industries. Owning a home or shoveling money into a 401(k) is not the path to financial security it once was believed to be. That's bad news. The good news is that so many people have experienced financial setbacks, layoffs, or job shifts in recent years that it is clear that failure is not about character flaws.
Failure can be an opportunity. Saying that, of course, is easier than living through it, especially if you're out of work, in debt, or clinging to a job you don't like because you need the money. But reinvented careers can be the ones in which people learn more about who they really are and make a go of something they really love. (You can see evidence of that in this special report in The Christian Science Monitor Weekly news magazine.)
The key seems to be to stop mourning the past, honestly assess your skills, envision where you want to be, gain new skills, and then go for it. You may not end up where you think you should, but you will be learning with every step.
---