Oval Office or Starship: What a leader needs
(Read article summary)
A professional manager may or may not make a good US president. Piloting a superpower through a four-year term is so complex and unpredictable that no one can be fully prepared for the job.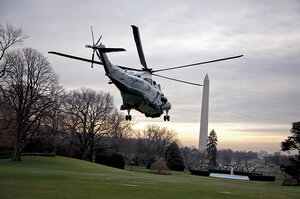 Evan Vucci/AP
Who was the best captain of the Starship Enterprise: the swashbuckling James T. Kirk, who relied on charm, instinct, and, frequently, his fists; the cool-headed Jean-Luc Picard, who could outthink half the known universe; the compassionate, collaborative Kathryn Janeway, who enlisted her crew's teamwork to solve intergalactic puzzles?
Pardon the Nerd 101 quiz. I'm trying to make a point about management styles: There will never be universal agreement on what type is the most effective. Circumstances always differ. Almost any manager – even bizarre ones like Muammar Qaddafi or Dilbert's pointy-haired boss – succeeds somewhere for some amount of time.
Being a great chief executive officer may or may not make you a good president. Governors and generals have been presidents. So have lawyers, gentleman farmers, a teacher, a college president, a movie actor, a tailor, a haberdasher, and a community organizer. Why not a CEO?
No matter what kind of résumé a leader brings to the White House, governing requires firmness, compromise, compassion, cunning, and an ability to sort out the fast-breaking complexities of global and domestic politics, economics, culture, sociology, science, and several dozen other disciplines at lightning speed. It also helps to be a good communicator. And likable. And have a nice family. And a cute dog.
At 1600 Pennsylvania Avenue, management skills matter, but so does everything else. Nobody takes that job with a portfolio sufficient to cope with all the possibilities that may crop up. Good management is about knowing what you know and what you don't know and working with your team, your allies, and sometimes your opponents to try to influence events so that they (1) do the least harm and (2) ideally, do the most good for the most people.
---