Does nation-building work?
(Read article summary)
The term "nation-building" smacks of colonialism. But when war has broken a country, nation-building is a moral duty -- and the best way to build is with equal parts outside and inside effort.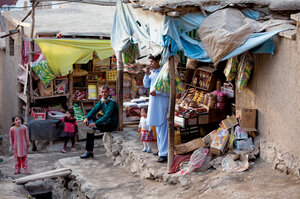 Melanie Stetson Freeman/Staff
Nation-building has a can-do ring to it. You can build a highway, a skyscraper, a Fortune 500 company. Why not a nation?
It isn't a new idea. Throughout the 20th century – in places as different as Germany, the Philippines, Iraq, Japan, and Kosovo – world powers have worked to turn broken states into healthy ones through a combination of outside force, inside management, and the cultivation of civil society, education, rule of law, and democratic institutions. Soldiers and civil servants have sacrificed their lives. Billions of dollars have been spent.
The outcomes have been mixed, as James L. Payne noted in a 2006 study published in the Independent Review. Some nations (Somalia) reject the effort. Others make it (Austria, Germany, Japan), but we can't be sure it was due to intervention or popular will. Nation-building works best when insiders take the lead. Some states fail and re-fail and then pull it together (Dominican Republic, Panama – and possibly Haiti, and even Somalia is improving).
---