Women warriors: How close to combat?
(Read article summary)
Women in the US military have been unofficially on the front lines in Afghanistan and Iraq. Now they are looking to formalize their role.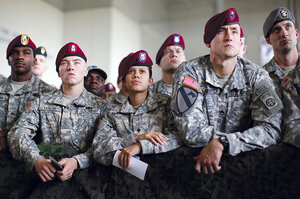 Kevin Lamarque/Reuters/File
When you think about the growing role of women in combat in the US military, it's probably best not to envision either "G.I. Jane" or "Private Benjamin." Women in the military are neither celluloid heroes nor sad sacks. The warriors Anna Mulrine interviewed in a Monitor cover story found simply want equality: the same rules, regulations, and duties as men, even if it means the same danger, tedium, and privation that men have long endured on the front lines.
You'll meet Lt. Col. Tammy Duckworth, who lost both legs when her Black Hawk helicopter was hit by a rocket-propelled grenade in 2004 in Iraq. To her, the question is not whether combat is too risky for women or whether mixed genders might hurt unit cohesion. "Trust me," she says, "to have the intelligence to assess the risks and decide to take them in order to have the amazing privilege of serving my country."
Combat, after all, is risky for everyone. Which is why all enlistees, regardless of gender, deserve to be treated with respect by their comrades in arms, the officers they report to, and the society they serve. Too often, that has not been the case, as seen in "The Invisible War," a documentary on rape and sexual harassment in the military (see this review by the Monitor's Peter Rainer).
As a Pentagon correspondent, Anna Mulrine has lived on the front lines. In 2006, she bivouacked in the embattled Iraqi city of Fallujah. In 2011, she operated out of a NATO outpost in Afghanistan's Helmand Province. There were uncomfortable moments, she notes, but not always in ways you might think. For instance, matters like hygiene and privacy were nonissues. "When it came to bathrooms, it turned out that the guys wanted privacy for themselves even before they had to accommodate women. So in Fallujah they put up a plywood wall, and in Helmand there was a separate tent."
---