The end of 'faster, higher, stronger?'
(Read article summary)
As the cream of the world's athletes converge on London for the Olympics, sports scientists say humans may be reaching the limits of their ability to set world records. But that takes nothing away from the drama of athletic competition.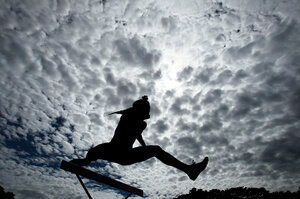 Juan Carolos Ulate/Reuters
"Faster, Higher, Stronger." The Olympic motto captures the pure athleticism we will witness after the great caldron is lit in London July 27. Individuals and teams from around the world will push themselves past the limit of human endurance to win a gold medal and, if possible, set a world record.
Olympians – and we lesser specimens watching from our sofas – start with roughly the same factory-supplied bodies, breathe the same air, navigate the same terrestrial conditions. Their physical feats, however, put them on the far end of the human bell curve.
Still, while dramatic contests will take place and heartbreakingly close races will occur during the Games, scientists increasingly believe humans are hitting
limits of unassisted athletic performance. There's only so much, it seems, that Homo sapiens' muscles and lungs can accomplish.
Specialists at France's National Institute of Sport, Expertise, and Performance have examined the top 10 performances in track and field and swimming during the modern Olympics era (1891 to 2008) and found that most records have stagnated since 1988. "Our physiological evolution will remain limited in a majority of Olympic events," they concluded in their 2010 report.
Records may still be broken. In rare cases, extremely exceptional individuals may still emerge. High-tech footwear and no-drag swimsuits may provide a temporary edge – until everyone gets them or they are banned. The latest performance-enhancing drugs and futuristic procedures such as gene therapy may assist a few unscrupulous athletes. But as Peter Weyand, a biomechanics and physiology professor at Southern Methodist University in Dallas, wrote in a 2009 Monitor commentary, record-setting may "no longer lie within the traditional limits of human biology."
---