After Aurora: the role of media violence
(Read article summary)
The connection between violent images and violent acts is an age-old debate. Recent research appears to show the connection is real. So what's to be done? There's an age-old antidote.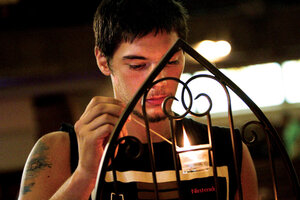 Barry Gutierrez/AP
Some of the most celebrated TV shows of this era are also some of the most violent: "The Wire," "Breaking Bad," "The Sopranos." It's the same with movies – from "Pulp Fiction" to "Batman." And video games. And books. Violence has a long and rich tradition in the arts as a plot accelerant and drama intensifier. Shakespeare employed it liberally. Homer, too.
But for as long as there have been arts, people have wondered what effect violent content has on behavior. Plato wanted to keep young people away from intense plays, which he felt skewed proper character development. His student Aristotle disagreed, arguing that drama had a cathartic effect, channeling off anger and aggression.
We're a little closer today to settling the issue, which often arises after an act of mass violence such as the one in Aurora, Colo.
Common sense says make-believe images must have an effect. If the media were unable to sway thought, a hole the size of Gotham City would be blown in the advertising industry. There would be no reason to saturate the airwaves with political ads, sponsor sports spectacles, or launch big marketing campaigns.
A mountain of behavioral studies has been amassed in recent years showing that media messages are, indeed, persuasive. That goes not just for consumer choice. A 2006 review by L. Rowell Huesmann and Laramie D. Taylor for the University of Michigan's Institute for Social Research pulled together dozens of careful studies. Conclusion: "Media violence poses a threat to public health inasmuch as it leads to an increase in real-world violence and aggression." Every category of violent imagery had an effect: fictional TV and film, TV news, video games.
---