Teachers who excel: A lesson from Miss Smoot
(Read article summary)
Nothing is more important in K-12 education than the quality of a teacher. But how do we make great teachers? We could start with someone like Jane Smoot.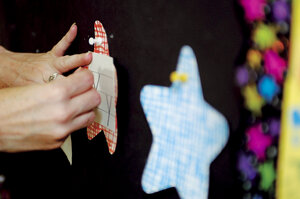 Joanne Ciccarello/The Christian Science Monitor
Where does intelligence come from? Biologists look to organic structures. Psychologists study influences and experiences. Theologians look to the spiritual.
All can agree that intelligence needs care and feeding. For that we have teachers to thank – parents, an aunt or uncle who takes an interest in us, a religious guide or workplace mentor, a thoughtful friend.
That's the informal network. The formal one is the subject of this week's cover story: schoolteachers. There are more than 7 million teachers in the United States, and millions more abroad. Teachers, writes Monitor staffer Amanda Paulson in a Monitor cover story, are the most important factor in student learning – more important than textbooks, tests, computers, classrooms, peer groups, study guides, or any other aspect of the education industry.
Almost all of us have felt the embers of intelligence glow because of a teacher's careful attention. For me – and for generations of 12th-graders at William B. Travis High School in Austin, Texas – Jane Smoot was that teacher. Her love of prose and poetry inspired students across four decades. Her enthusiasm when a young writer assembled a composition in a way that conveyed the essence of an idea made you want to do even better next time.
But what makes a good teacher? And how can we make more of them? Amanda seeks answers. In our age of metrics, it is tempting to impose a formula for teaching excellence. As we know from standardized testing of students, data can be useful in charting progress (or slippage) over time and ensuring that no student is left behind. But metrics cannot capture the quicksilver of excellent teaching. For that, more qualitative observation is needed. Amanda explores that complex and controversial process.
---