How poor is poor? How rich is rich?
(Read article summary)
Everyone from the US Census Bureau to the United Nations has a definition of poverty. A reasonable income is unquestionably important. But income alone doesn't determine whether someone is poor. Or rich.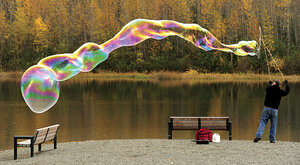 Erik Hill/The Anchorage Daily News/AP
What defines a poor person?
The US Census Bureau, federal agencies, state governments, the United Nations, and economists all set different numbers. But the poverty line is as individual as the people it defines. Circumstances vary, geography is a factor, family and community play a role, and everybody makes choices.
To be poor in Central Asia or western Africa is not the same as being poor in London or Appalachia. In some cases it is better, and in some cases it is worse. Living simply can make a person look poor to a statistician, but is that real poverty? (See Jina Moore's excellent Monitor Weekly cover story -- click here -- unpacking poverty.)
You could ask the same questions about wealth as as about poverty. In Tom Wolfe's satire on 1980s-era New York, "Bonfire of the Vanities," the protagonist runs through his budget and shows how a $1 million salary is not enough to support his lifestyle. By most of the world's standards, this "master of the universe" is clearly wealthy. Outside his Manhattan cocoon, he would be rich. But he feels poor.
He suffers from a problem that money can't solve: poverty of spirit. In other words, he is unhappy. So here's a corollary to our cover-story question: What defines a happy person? It's one thing to achieve basic needs, another to feel comfortable, but how much money is needed to feel happy?
You probably have a common-sense view that echoes these truisms: We all need money. But money isn't everything. Would it surprise you to learn that social scientists have actually proved those truisms true?
---