Will the 'European dream' continue?
(Read article summary)
Amid a protracted economic crisis, Europeans are unsure they want greater integration -- but rightly concerned about backsliding into the nationalistic divisions that long haunted the continent.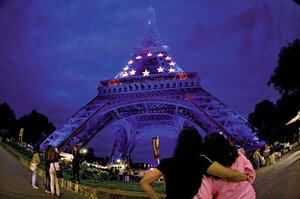 Mal Langsdon/Reuters
When you arrive in a new place, you register everything with new eyes – the color of buildings in the late afternoon, how the air smells, the local accents.
On Jan. 1, 2007, when the Monitor's Robert Marquand arrived in Paris from Beijing at the start of a 5-1/2-year assignment, he found a continent settling into a self-confident optimism. Long rived by war and rivalry, Europe was quietly cementing itself together with a common currency. That New Year's Day, Slovenia became the latest member of the eurozone, and the European Union welcomed its 26th and 27th members, Romania and Bulgaria.
France, Bob recalls, seemed sure of itself, its merchants and citizens happy to have surrendered the franc for the euro. Germany had emerged from its long east-west reintegration project with a productive, export-oriented economy. Europe and its cities did not have the brimming energy of urban Asia, but to many of its people, Europe still felt like the future.
---