Philanthropy unbound
(Read article summary)
Philanthropy is a word often associated with top hats and tote bags. But its original and essential meaning -- going back to the ancient Greeks -- is even more generous: It is about helping humanity make progress.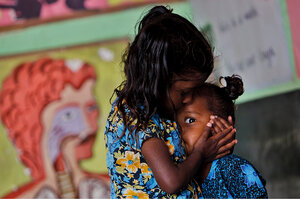 Aijaz Rahi/AP/File
Charity is the heart speaking. Giving is what happens when people listen. And philanthropy is the systematic application of giving for the betterment of humanity – whether aiding famine victims in Africa or supporting symphony orchestras in North America.
In a Monitor cover story, we profile philanthropists around the world, focusing on how and when they decided to use their wealth, skill, or influence to help others. We ask them, in essence, what their hearts said, and why they listened.
"Philanthropist" is a fancy word. We're used to associating it with top hats, tote bags, and gala fundraisers. But before the 20th century, the word had a larger meaning that elevated even the noble cause of giving to the needy into something grander. Marty Sulek, a lecturer at The Center on Philanthropy at Indiana University, has traced the concept back to the ancient Greeks and in the process freed it from the meaner motivations social science has seen as driving it.
If you consider humans to be creatures only of economics and politics, Dr. Sulek said in a phone interview, then giving can have a selfish connotation. It's about honor and self-esteem (although even if the reason for giving is to see your name on a brass plaque or hear it mentioned on PBS, making the world a better place is still worthy of applause).
But the original idea behind philanthropy was more generous. It meant loving humanity and wanting to see it improve. This more expansive motive can be attributed to religion, upbringing, or education. You might even source it to that unquantifiable spark within us: the conscience; the still small voice.
---