Of bargains: grand and not so much
(Read article summary)
Bargaining is a big part of life. It is how prices are set, business deals get made, and political differences are hashed out. Sometimes you get the advantage, sometimes not -- and often it's the bargain itself that's memorable.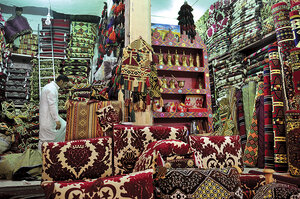 Ayez Nureldine/AFP/Getty Images/File
A hot wind blew off the Red Sea. Along with a dozen other reporters, I was camped out in an air-conditioned foyer at a royal palace in Jeddah, Saudi Arabia, waiting for the Saudi foreign minister and the US secretary of State to emerge from crisis meetings in the weeks before the 1991 Gulf War. Hours ticked by. Reporters dozed. Somewhere near dawn, our Saudi handlers ushered in a rug merchant to distract us with his goods.
I was a tough but seasoned bargainer, tossing out the word "soumak" when he unrolled a flat-woven rug. Not to be taken for a rube, I began decisively, cutting the offering price of the tribal textile in half, all the while staying cordial with my new "friend." I knew when to act miffed, when to say I could go no higher, and when to give ground.
"Mabrouk," the merchant said, pumping my hand as we finally closed the deal. "Congratulations, sir. You bargain well and have excellent taste."
I got my prize, plus a small brass coffeepot – and something even better: a great story. Robin, my wife and artistic director, had taught me to look for that tribal rug design. I had watched her 10 years earlier drive a hard bargain in the Hamidiya souk of Damascus, so this would be an excellent "Hi, honey, I'm home!" trophy. I could see my carefully acquired soumak spread out under the coffee table.
One day, I imagined, someone might ask the intrepid foreign correspondent if there was a story behind that rug. Well, yes,
ha-ha, now that you ask: A hot wind blew off the Red Sea....
---