Is it Iran's leader -- or Iran?
(Read article summary)
Ayatollah Ali Khamenei is known as "God's deputy on earth." He is Iran's ultimate powerbroker. Understanding what makes him tick is crucial to understanding Iran. But it isn't enough. You also have to understand Iran.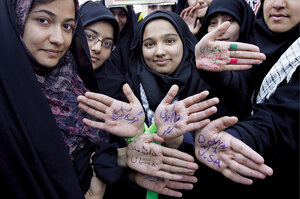 Vahid Salemi/AP
The "great man" theory of history was appealing in its simplicity. It promised that you would understand the world if you focused on several dozen individuals – a few kings, generals, and warlords; a scrum of statesmen and scholars; a handful of rebels and scientists. Napoleon and Martin Luther were two examples historian Thomas Carlyle had in mind when he developed the theory.
There's no doubt that a small number of remarkable individ-uals ride the flood tide of history to fame and fortune. But that's not enough to understand the world. The society into which one of these larger-than-life characters is born and the culture and history he or she inherits are of huge importance. Leaders don't spring from the soil, sociologist Herbert Spencer argued. They have to be understood along with the people they lead and the world in which they operate.
So when you read Scott Peterson's profile of Ayatollah Ali Khamenei (click here), the man designated as "God's deputy on earth" by Iran's political/religious establishment, you also need to know about Iranians; the Shiite faith; the cultural provenance of Persia; and the grievances, violence, and revolutionary experimentation of his nation's past three decades.
That's what Scott brings to the table. He has made 30 visits to Iran since 1996, seen hopes for a freer society rise and fall, made dozens of friends, and worked tirelessly to try to understand this rich, turbulent 2,500-year-old culture. His 2010 book, "Let the Swords Encircle Me: Iran – A Journey Behind the Headlines," provides a multilayered perspective of a complex population and a culture that is both repressive and accommodating.
---