Who needs church?
(Read article summary)
The purpose of church may not be apparent in everyday life. But there comes a moment when we all wonder if everyday life is all there is. Church is waiting to help answer that question.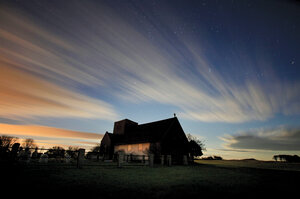 Robert F. Bukaty/AP
Churches come in all shapes and sizes – a white-steepled Colonial nestled among Vermont maples; a cherub-packed basilica commanding a Roman boulevard; a megacampus hard by the interstate. A church can even spring up in a defunct Pizza Hut.
How and where people worship is constantly changing. Denominations may begin with a fervent few, rise to prominence, decline. Others reinvent themselves. And always there are new ones springing up. Churchgoing mirrors shifting populations and cultures. It's like that old finger-play game of "Here is the church; here is the steeple." Open the doors: Some churches are empty, some full.
Nowhere is denominational churn as pronounced as in New England. Five hundred years ago, religious refugees fled there, only to establish virtual theocracies. Later came Unitarians and other theists, gospel skeptics whose open-mindedness helped frame the US Constitution. Next up were the personal-savior preachers of the first and second "great awakenings" who fostered a populist Christianity. Then it was on to the transcendentalists with their celebration of nature and community.
Today's New England is still a religious incubator. While it's in the forefront of the "unchurched" trend – the growing numbers who see themselves as spiritually-minded but not denominational – New England is also seeing a mushrooming of nonmainstream churches. Jeff MacDonald's cover story in the Monitor Weekly locates that creative burst in a desire for hands-on, make-a-difference faith.
---