Bad news is loud. Good news rules
(Read article summary)
If you look behind the often dire headlines and examine the long-term trends, you'll see that crime is falling, lifespans are increasing, and poverty is ebbing. In other words, there's solid evidence for hope.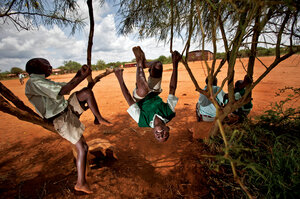 Ben Curtis/AP
There's much more good news than bad news. But bad news travels fast and commands attention. Good news is like water carving a valley or a tree gradually extending its branches. Good news is a child learning a little more each day or a business quietly prospering. We hardly notice it.
Examine the data over time, and you'l find irrefutable evidence of progress: the decline of war and violent crime, the increase in life spans; the spread of literacy, democracy, and equal rights; the waning of privilege based on race, gender, heredity, beliefs (Jina Moore and a team of Monitor writers say this much more specifically in our cover story: "Progress Watch 2012").
Every so often there are vivid scenes of good news -- Neil Armstrong bouncing onto the moon, revelers atop the Berlin Wall, Nelson Mandela walking out of Robben Island prison. But most of the time good news is incremental, which causes it to be taken for granted.
Not bad news. When we hear it, we sit up and ask, "What just happened?" Bad news can make us beat our fists on the table and ask where was God and how can such a terrible thing happen. Bad news is mesmerizing. We can't look away from a collapsing high-rise or an inundated coastal town. We know the meaning of a sidewalk filled with flowers and teddy bears.
Bad news is insistent. In fairness, bad news isn't all bad. It can alert us to problems that need to be addressed. But in the grand scheme of things, there's actually not that much of it . Oh, there's always enough for a front page or a Web bulletin or a nightly newscast, although sometimes reporters have to travel to the ends of the earth to find it. Bad news has a natural advantage, however. It pulses through humanity's central nervous system -- word of mouth, the media, the Internet. Its images are riveting and its stories are dramatic. It floods the zone.
---