Why second acts matter
(Read article summary)
Scoring a 'first' is worthy of celebration. But second acts, second tries, and second chances are crucial. First, they correct for first-time flaws. Second, they prove that firsts were no fluke.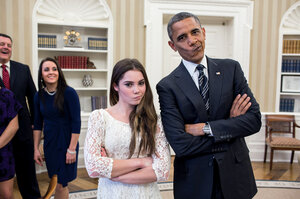 Pete Souza/White House
Nothing beats a first. Firsts go down in the history books. We honor them with gold medals, bouquets, and anthems. But firsts need seconds.
On Dec. 14, 1903, Wilbur Wright went airborne. For three seconds. Something promising happened, but was it really flying? The next attempt, on Dec. 17, piloted by his brother Orville, was only nine seconds longer. But it was proof that what happened on Dec. 14 was real. A photograph of that second try shows Wilbur running alongside the flying machine. And it was definitely flying. Dec. 17 is the date remembered for the first flight.
F. Scott Fitzgerald may have morosely declared that there are "no second acts in American life," but second acts are crucial. They let us correct mistakes and try again. Winning all the marbles the first time might be beginner's luck. Doing it a second time proves you are an ace. Besides, science requires that results be reproducible to be valid.
This is not a knock on first-place finishers. A winner deserves a victory lap and a shower of ticker tape. But second-placers are no slouches. With that in mind, here are a few people to consider first-place second-placers:
•Tenzing Norgay, the second person to summit Mt. Everest. The Nepalese climber was only a few feet behind Edmund Hillary in 1953, a triviality after ascending 29,000 feet. Both men supported each other. Neither would have made it alone.
•Buzz Aldrin, the second man on the moon. He actually spent more time on the lunar surface than Neil Armstrong and seemed to have more fun.
•Alfred Russel Wallace, who developed the theory of evolution at the same time as Charles Darwin. Darwin published first but acknowledged that Wallace had the same ideas, calling the theory "your own and my child."
---