The interface is the message
(Read article summary)
The Internet needed a friendly face to become usher in the digital revolution. The browser, which launched 20 years ago this spring, was that face. Today's interface of choice, the app, has launched a second revolution.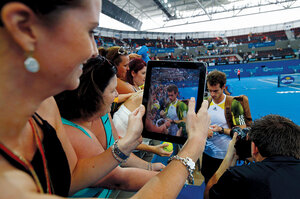 Daniel Munoz/Reuters
This year marks the 20th anniversary of the launch of the Mosaic 1.0 Web browser. For all the revolutionary disruption caused by the Internet, it was Mosaic that turned the underlying technology into the world's instantly available library, social crossroads, and e-commerce marketplace.
Mosaic was the work of a group of computer science students at the University of Illinois at Urbana-Champaign led by Marc Andreessen, who later went on to cofound Netscape and had a hand in Ning, Twitter, and Facebook. Riding on the shoulders of Tim Berners-Lee's invention of the World Wide Web two years earlier – which, in turn, rode on the shoulders of the thousands of scientists, engineers, government planners, and businesspeople who built the underlying Internet – Mosaic democratized the digital life. It was simple and obvious. Two decades on, it doesn't look very different from Chrome, Safari, or other modern browsers. Mosaic made the browser a household appliance.
The browser changed the Internet and is not going away anytime soon. But mobile applications are the interface of the moment. Apps exploded in use because of smart phones and tablets. As Chris Gaylord explains in a Monitor cover story, apps go browsers one better: They connect the digital and tactile worlds.
You can navigate with them – find restaurants, snap photos and record videos, share with friends. Everyone who uses a smart phone or tablet has a few go-to apps. My current favorites include Flipboard, Zite, and, of course, the Monitor Weekly app (admittedly, the first-generation app we have is buggy and clunky; a new and better version is on the way). I was briefly a passable talent with the Doodle Jump app. I've played Words With Friends. I was once household champion at Angry Birds.
---