Finding the true focus
(Read article summary)
In an age of all-too-easy digital manipulation, there are good reasons to suspect the veracity of a visual image. But there's another kind of photographic truth-telling needed: focusing beyond dramatic scenes of conflict and suffering and fairly showing the people of the world without stereotypes.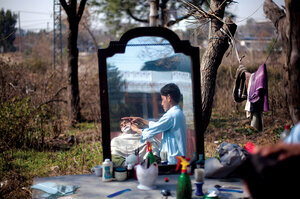 B.K. Bangashi/AP
Anyone can be a photographer, but it takes a trained eye and intellect to use photography to make sense of the world. Filmmakers are masters of the captured image. So are photojournalists. Each works a different field, but each has essentially the same problem to navigate: truth.
Though most movies are fiction, they seek to be true in their own way. World War II veterans, for instance, have said the harrowing assault on the Normandy beaches in "Saving Private Ryan" felt disturbingly real. Was "Zero Dark Thirty" truthful about torture? Did "Lincoln" and "Argo" get it essentially right, or was history subordinated to drama? As Peter Rainer notes in his review of the Chilean film "No" (page 38), factual accuracy has become a hot cinematic issue.
Photojournalism is supposed to be all about factual accuracy. We think of a camera as an objective collector of reality. But as with reporting, history writing, and any form of documentary, subjectivity is unavoidable.
Monitor photo editor Alfredo Sosa and his team pore over dozens of images each day from photographers and agencies, looking for interesting but also fair depictions of the world. This requires honesty about stereotypes and biases.
The photos that flow into the Monitor, Alfredo says, too often show a sprawling culture like India as a place of snake charmers and poverty. "What you never see," Alfredo says, "is the middle-class couple going to the movies or having dinner." Images from China usually show masses of people, and across the Middle East the cliche is angry crowds. But what about people just taking their kids to school or sharing a laugh?
---