A balance worth tipping
(Read article summary)
Conflict-prevention programs in schools aim to shift the view of students, to encourage them that there is something to live for, that life isn't unfair, and that school is worth their time and attention.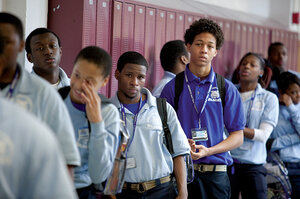 Melanie Stetson Freeman/Staff/File
Sometime around Day 1 in our lives, we begin wondering what's fair and what's unfair. Are Mom and Dad playing favorites with the ice cream? How can that kid cut in line? C'mon, Mr. SUV, let me into the traffic.
We're constantly weighing fairness, campaigning for it, and judging it. The perception of unfairness may start as mild annoyance, but it can make or break empires. Get it right and you're Solomon. Get it wrong and you're Marie Antoinette.
So basic is the desire for fairness and the revulsion at unfairness that scientists are increasingly convinced that it is innate. A 2008 study by researchers at the California Institute of Technology indicates that the drive for fairness is tied to people's emotion and that, instead of learning to be fair, humans are born that way. Experiments show that people feel worse when they perceive inequity and better when justice is done. Humanity, in effect, is always putting the universe on trial.
In a Monitor cover story, Stacy Teicher Khadaroo examines the problem of fairness in the meting out of school discipline. School is crucial in transferring civilization from one generation to another. It is where young people determine whether social rules are worth supporting, whether society is going to give them a fair shake, whether centuries-old wisdom really is wise – whether, in short, they should contribute to the culture they were born into or walk away from it.
A teacher's interest, an inspiring class, supportive fellow students – these slowly encourage adolescents to opt in. A clash with authority can derail that process, especially if a perception of unfairness takes hold. This is where the statistics are troubling.
---