Why we're hard-wired for best practices
(Read article summary)
Whether on Capitol Hill or in isolated desert communities, people tune into each other to find out what works. The adoption of "best practices" seems to be embedded in human nature.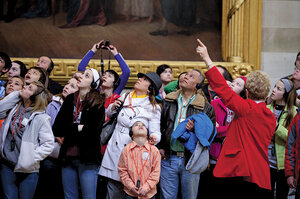 Melanie Stetson Freeman/Staff
Let's talk "best practices." That's the term for emulating success, following the leader, wanting to be like Mike (Jordan) or any other superstar at basketball, nuclear physics, ballroom dancing, summiting Everest. Best practices drive progress. Scientists, even before Isaac Newton pointed it out, have always stood on the shoulders of predecessors. Painters assimilate the best techniques of earlier masters. So do jazz musicians. Good software gets better when it is added to.
In a Monitor cover story, we look at the best practices of Washington dealmakers. It is commonplace today to pine for a golden age of centrism and moderation, a time when compromisers didn't face fierce primary challenges if they deviated from orthodoxy. Maybe those times once existed; maybe not (see page 31). In any case, business gets done in 2013 Washington because a handful of dealmakers act as interlocutors between often hostile ideological camps.
Dealmakers may hail from a tea party conservative base or be backed by netroots liberals. One may be a Tidewater Republican, another a Brooklyn Democrat. Regardless of political coloration, dealmakers, as you'll see in the profiles by David Grant and Gail Russell Chaddock, know how to navigate among standing firm, compromising, and capitulating. That makes them rare birds worth studying.
* * *
---