To invest or not to invest? The eternal question
(Read article summary)
Investing is an individual decision. How you view the stock market depends on where you are in your earnings cycle and what your past experience has been. The only thing the market may be telling everyone right now is that the bad old days of the last decade appear to be over.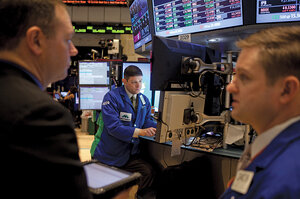 Melanie Stetson Freeman/Staff
The stock market is telling us something. But we're all getting different messages. If you are a baby boomer, you lived through the dot-com crash of 2000 and financial panic of 2008. Retirement is not far away. If the stock market is calling to you, it probably sounds a little like Count Dracula's treacherous invitation: "Enter freely – and of your own will."
Maybe you should enter. Maybe you should run.
If you are a member of the Millennial Generation, on the other hand, the stock market may be saying something completely different to you. You never lost money in it. There seem to be good bargains. Maybe you'll make some money. Maybe you'll lose some money. With time on your side, you can afford to experiment. ("Hey, Count, what's for dinner?")
I was there once myself. Enchanted with the new Apple Mac-intosh in 1984, I bought the first shares I ever owned: 50 of Apple at $30. Pretty smart, right? It's now around $440. Of course, I didn't think it would ever go that high. In fact, a few months after I bought in I had qualms and sold out – at $20. My excellent adventure in investing wasn't profitable, but it was a life lesson. It taught me the value of buying a quality stock – or better, a balanced mutual fund via a 401(k) – and holding it. I've faithfully followed the price of AAPL on the NASDAQ ever since, even though I've never bought another share directly.
No matter how the market has been performing, your past performance is a pretty good indication of your future behavior. You can see that pattern on display in a Monitor cover story. We're a long way from "irrational exuberance." Even "cautious optimism" is too bubbly a term. The best phrase for current investor psychology is probably: "As opposed to what?"
---