South Korea's amazing rise
(Read article summary)
Almost out of nowhere -- after a devastating war, the near ruin of the 1990s Asian financial crisis, and the constant threats of annihilation from its nemesis to the north -- South Korea has moved into the first ranks of innovative, economically confident nations.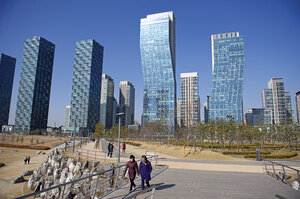 Ann Hermes/Staff
Scratch the confident surface of any capital city, classroom, or business and you'll hear the same question: How can we be more innovative? It's a question chewed over in design studios, research labs, brainstorming sessions, and countless management books.
Innovation is the secret sauce everybody wants to bottle, the DNA of groundbreaking patents and products. It will drive the next generation of hybrid engines, solar cells, robots, and pop tunes. Innovation creates jobs, boosts trade, grows GDP.
People and cultures that believe they have an innovation deficit are not above trying to steal – or at least copy. "Fast follower" is the common term for countries adept at seeing good ideas and going them one better (and usually one cheaper). Japan, Hong Kong, Taiwan, and even the United States built up their initial industrial strength by copycatting. The US wouldn't have been the 19th-century textile superpower that it was if not for processes and machinery pirated from Britain.
China – the colossal fast-follower of modern times – knows that if it is going to be anything other than a low-cost producer it needs to wean itself off of copying, counterfeiting, and cheating. It needs to be genuinely innovative. But how? Innovation involves an unlikely combination of careful research, preparation, productivity, and the freedom to dream up and share ideas. None of those assets works in isolation. Cool new ideas are useless if they can't be turned into profitable products and services.
A Monitor cover story takes you on a journey into a remarkable culture that is by most estimates the first or second most innovative on the planet. South Korea isn't a longtime, Scandinavian-type trendsetter. It doesn't get the awe-struck adjectives of China. It was long in the shadow of the other Asian "tiger economies" – Japan, Hong Kong, and Taiwan. But almost out of nowhere, after a devastating war and with an outrageously threatening nemesis to its north, South Korea has become a worldbeating economy.
---