Vacation: nothing better
(Read article summary)
The newest trend in time off doesn't involve tweeting from Tahiti, competing in a triathlon, or climbing Mount Everest. The newest trend is unhooking, powering down, and reconnecting -- with family, friends, your own backyard, and even that little inner voice.
+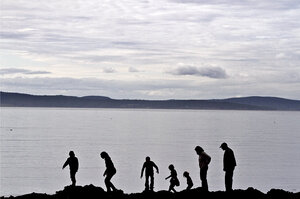 Bettina Hansen/The Seattle Times/AP
History doesn't move in straight lines. It zigzags. Here's where it seems to be zagging: toward a rethink of the hard-charging, high-tech, always-on culture that has imposed itself on the modern world. Let's call it the Not Wired and Proud of It direction.
Exhibit A: Our cover story by Dan Wood on the growing embrace of "do nothing" vacations, meaning vacations that don't feature kite-surfing through the Bering Sea or learning Mandarin in a two-week cram session or – and this is the most likely possibility – continuing to be a productive careerist via e-mail, cellphone, and teleconference even as the kids frolic in the nearby surf. These are vacations that are about vacating the workplace, freeing the mind, quieting the body, and enjoying the moment.
Exhibit B: A recent New York Times report on how even Twitter mavens and Pinterest honchos have discovered the pleasures of paper, pencils, face-to-face conversation, and the wonderful world that exists beyond the range of cell signals. They shut off their transponders at dinner and concentrate on the people sitting across from them instead of LOLing at text messages from other time zones.
Exhibit C: TheAtlantic.com's report that "chick lit" about young women pursuing urbanist careers and rom-com antics – think "Friends" and "Sex and the City" (neither of which, honestly, I have ever watched) – have been eclipsed by novels about young women abandoning the bright lights and fast track for simpler lives, smaller towns, and more homespun fellas. Even daydreams, this seems to show, can be downsized.
---