The greening of the West
(Read article summary)
Long the province of mountain men and rugged individualists, the Intermountain West is drawing a new generation of entrepreneurs, knowledge workers, and venture capitalists keen on experiencing the region's natural wonders while staying connected to the global economy.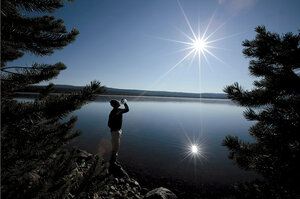 Lucy Nicholson/Reuters/File
West is just a point on the compass, there to the left as you face north. But throughout history, the west has been associated with freedom and fresh starts. Explorers, dreamers, iconoclasts, and opportunity seekers have always followed the sun. The west has tugged at the imagination since the earliest epochs of Indo-European migration.
The torch of civilization was relayed from Persia to Greece to Rome. Though it dimmed for a few hundred years, it again moved westward with the Renaissance and Reformation. Then it was on to the New World and the westward push of pioneers. In the decades ahead, the handover is likely to stretch across the Pacific toward the economic powerhouses of Asia.
The West that we look at in a Monitor cover story is the one embedded in the American mind, the one captured by Albert Bierstadt, Frederic Remington, and Ansel Adams with their images of the almost impossibly beautiful Rockies, Tetons, and Pacific Northwest. Todd Wilkinson, who has written covers for us on the return of wolves and the rise of the green ranching in that region, now surveys its robust economy and its green ethos.
Once merely gorgeous, isolated, and quaint – primarily valued only for minerals, timber, and recreation – the Intermountain West is now attracting innovators, venture capitalists, and knowledge workers who love the idea of trout fishing, mountain biking, and blasting down black-diamond slopes when they aren't teleconferencing with Shanghai and London.
---