Feeling for freedom's limits
(Read article summary)
Free speech and freedom of religion are widely recognized as inalienable human rights. But there are other freedoms as well -- from want and fear, for instance. Determining the extent and limits of these freedoms is a never-ending job in a democracy.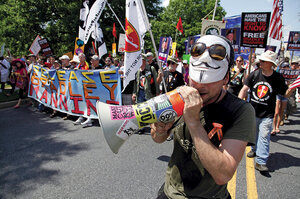 Jonathan Ernst/Reuters
People across the world stand in front of tanks, brave tear gas and rubber bullets, and sacrifice their lives for freedom. Freedom is among humanity's deepest aspirations, a concept understood in every heart and revered in every society.
But what exactly is the measure of freedom?
In early 1941, President Franklin Roosevelt declared that a secure world rested on four essential human freedoms. Two were already enshrined in the US Constitution and familiar to generations of Americans: freedom of expression and worship. The other two were novel, even radical at the time. One was freedom from want, which Roosevelt described as the right of everyone to "a healthy peaceful life." The other was freedom from fear, meaning that "no nation will be in a position to commit an act of physical aggression against any neighbor."
FDR's four freedoms are echoed in the preamble of the United Nations Universal Declaration of Human Rights. Four of Norman Rockwell's most beloved paintings – the working-class guy standing to speak at a public meeting, worshipers' heads bowed in prayer, a family gathered for Thanksgiving dinner, and parents tucking in their children while the dad holds a newspaper with the words "bombings" and "horror" in the headline – illustrate those four freedoms.
The struggle for freedom to and freedom from has propelled history for the past 72 years. It is behind virtually every news event. You can see it in the successive fights against fascism and communism. You can see it in the campaign for equal rights for African-Americans, women, and dozens of groups once excluded from full participation in self-government and the pursuit of happiness. You can see it in this week's issue of the Monitor Weekly.
---