The making of Americans
(Read article summary)
The "melting pot" has been glorified, vilified, and dismissed as obsolete. But both census data and the stories of millions of individual immigrants indicate that the not-always-easy process of assimilation is alive and well.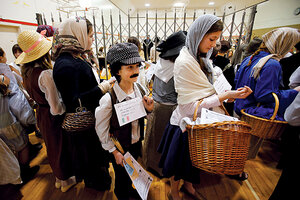 Chris Pietsch/The Register-Guard/AP
All Americans are immigrants. Some arrived ages before there were visas and borders or even countries; most came after. Some arrived against their will; most arrived hungry for what lay ahead. As recounted in thousands of immigrant stories, the first days in the New World could be glorious, dizzying, and upsetting. Opportunity was abundant and freedom exhilarating. But language, laws, and customs could be puzzling. Natives could be brusque. Work could be tedious and dangerous.
When the speed and excess got to be too much, there was always a sanctuary of fellow immigrants, where faith, food, and conversation were familiar. From the outside, Little Italy, Chinatown, and every other ethnic neighborhood could seem strange, even threatening. In the early 20th century, Anglo-Americans worried that immigrants from southern and eastern Europe weren't fitting in. They were creating separate cultures and threatening the status quo. This was not just paranoia. Anarchists and labor activists, many rooted in immigrant communities, challenged the power structure. Criminal groups operated out of ethnic communities. IQ tests appeared to show a gap between native- and foreign-born.
---