MLK's dream is the American dream
(Read article summary)
Fifty years ago, black Americans -- and many whites as well -- descended on Washington, D.C., to insist on one simple thing: that the United States keep its word that "all men are created equal." Fifty years later, progress on equal rights has been realized in some ways, but it remains a dream in others.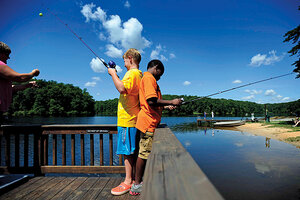 Reza A. Marvashti/The Free Lance-Star/AP
People change their minds for a million reasons. Sometimes a million people change their minds for one reason. Let's go back to Aug. 28, 1963 – midway through one of the most tear-stained years in American history. It was the year fire hoses and police dogs were used against civil rights marchers, when Medgar Evers was murdered in Jackson, Miss., and four little girls were killed by a bomb blast at the 16th Street Baptist Church in Birmingham, Ala. Later that year, President Kennedy was assassinated.
Against that backdrop, hundreds of thousands of people descended on Washington, D.C. They were peaceful. They were polite. They were insistent about what had to happen. The centerpiece of the March on Washington was a speech like no other.
In 17 minutes, Martin Luther King Jr. swept through American history, recalling the broken promise of equality for all, "the fierce urgency of now" in gaining civil rights, and the unstoppable power of "meeting physical force with soul force." His voice strengthened and his cadences built as he progressed through the refrain of "Let freedom ring!" to the now sacred peroration: "I have a dream" – of reconciliation, brotherhood, and colorblindness but most of all of an America living up to the true meaning of its creed that "all men are created equal."
---