They saw the crash coming
(Read article summary)
Before the financial meltdown of 2008, a handful of prophets raised warnings. Most people didn't listen. Why? Because most people have a hard time seeing outside the bubble of the present moment.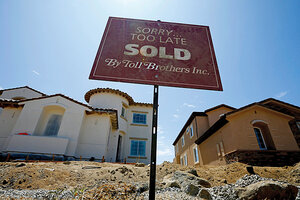 Mike Blake/Reuters
You can't say we weren't warned. In the months and years before the 2008 financial meltdown, economic prophets saw trouble ahead. At first they politely begged to differ with the conventional wisdom that good times would roll on and on. Eventually, they were shouting from the rooftops.
As early as 1998, Brooksley Born of the Commodity Futures Trading Commission cautioned that financial derivatives were out of control. Throughout the early 2000s, William White of the Bank for International Settlements repeatedly advised central bankers (most directly in 2003 with Federal Reserve Chairman Alan Greenspan in the audience) that lax monetary policies and poor oversight were generating dangerous asset bubbles.
In 2003, Robert Shiller cautioned that the housing market was irrationally exuberant. Two years later, Nouriel Roubini said a devastating real estate bust was coming. That same year, Raghuram Rajan of the International Monetary Fund raised his voice about risky financial innovations. By then even Mr. Greenspan, the architect of the easy-money policies widely associated with the crash, was telling Congress he was worried, but his worry was the massive mortgage-backed securities trade fostered by Fannie Mae and Freddie Mac.
---