A new way to read the Monitor Weekly
(Read article summary)
Our new app is designed to give you smooth, dynamic, timely access to the Monitor Weekly. If you subscribe, please give it a try. If you don't yet subscribe, this is another reason to do so.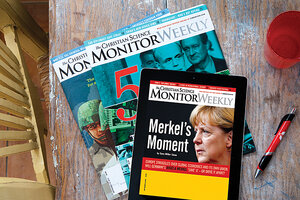 Photo illustration by Melanie Stetson Freeman/Staff
Here's a trick anybody can do: Slip a sheaf of papers into a metal box in Anchorage, Alaska, or Oslo, Norway, and a few days later it will be in someone's hands in Cape Town, South Africa, or Albuquerque, N.M.
OK, you'll need a stamp, but what the postal service does is still something of a miracle. On foot, horseback, train, planes, and trucks, postal carriers have faithfully delivered the news around the world since the days of Cyrus the Great. Herodotus marveled about how undeterred these couriers were by snow, rain, heat, or darkness.
Paper needs to be hand-delivered. Information doesn't, not in the Digital Age. And a news magazine is information.
Wait. I know what you're thinking. The next sentence isn't going to announce that the Monitor is leaving print behind. We're committed to print. But we have a request: Take a look at our new Monitor Weekly digital edition. It's free to Monitor print subscribers, it takes full advantage of digital delivery, and – yes, I'll say it – it is faster and richer and more economical to produce than the print version.
---