The quest for energy security: long, slow, increasingly successful
(Read article summary)
For decades, energy security was a major concern to consumers, businesses, and governments. There was no magic solution to the problem. Instead, persistent effort and incremental improvement made the difference.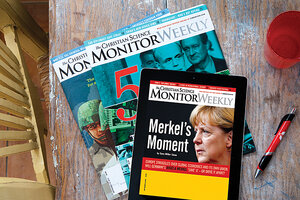 Photo illustration by Melanie Stetson Freeman/Staff
Have you noticed this pattern when dealing with a complex, intractable problem? You work through all the variables – some of which you control, most of which you don't. You furrow your brow, break a dozen pencils, hit your head against multiple walls, and frequently drift into magical thinking about a breakthrough that wipes the problem out.
Even if the best minds of a generation keep at it, the problem persists. Then one day, you look around and realize that the problem is gone.
That's the way the energy crisis seemed. After almost a century of abundant fossil fuel, supplies tightened in the early 1970s, prices soared, economies staggered, and that looked like the future as far as the eye could see. Jimmy Carter called the energy crisis the "moral equivalent of war." Oh sure, maybe someone could dream up a breakthrough – the "cold fusion" device that Stanley Pons and Martin Fleischmann announced in 1989, for instance. But like the "Mr. Fusion" engine in the movie "Back to the Future," that was fantasy. Year after year, the energy problem remained unsolved.
Have you looked around lately? You already know that hydraulic fracturing, while controversial, has revolutionized gas and oil extraction in the United States and other parts of the world. Solar arrays and wind turbines are popping up everywhere. There are promising new nuclear technologies under development. And a Monitor cover story, David Unger shows you an especially unheralded energy revolution that has crept up on us.
---