The 'WYSIWYG' leader
(Read article summary)
It's difficult to know how revolutionary a new leader will be. Is that smile just a pleasant first impression? Or is this really a case of 'what you see is what you get?'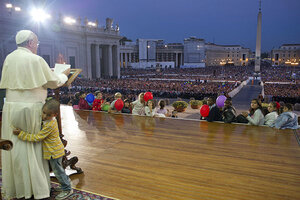 AP Photo/L'Osservatore Romano
New leaders are like new cars. You can read what the experts say about them, check out their style, and watch how they perform right off the lot. But time is the real test. Style fades. Substance remains.
Will Hassan Rouhani's policies as the president of Iran be as moderate as his manner seems? Will Chinese leader Xi Jinping root out corruption and boost freedom for 1.4 billion Chinese? Is Pope Francis a new kind of leader who will be able to change a very old church?
Each inherits historical baggage, entrenched bureaucracies, rival factions, and breathtakingly varied opinions about what, if anything, should change. In each case, initial moves are being carefully watched. Mr. Xi, for instance, has declared war on graft and prosecuted a few high-profile cases over the past year, but he has also renewed a crackdown on dissent.
Libraries are filled with books about change management. Most agree that turning around an established culture requires clear goals, buy-in from stakeholders, transparent decisionmaking, demonstrable wins, and steadiness amid setbacks. If getting-to-know you smiles and good feelings aren't followed by decisive and successful actions, credibility can be lost.
---