Planet polar: The lure of Earth's ends
(Read article summary)
Earth's two poles are remote and dangerous. But they have what no nearby planet has: water, air, and abundant natural and biological resources. That makes these frigid regions hot.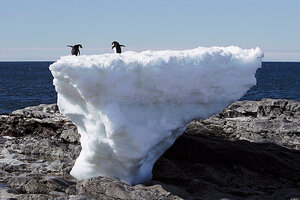 Pauline Aski/Reuters/File
Imagine NASA announcing the discovery of a nearby world with an Earth-like atmosphere that supports marine animals and plants, along with birds and assorted fauna. Also abundant: hydrocarbon and minerals. Unlike Mars, Venus, and the other neighboring planets, this would be a place humans could work with. It would be cold and snowy and have long periods of darkness, but there would be air to breathe, water to drink, and possibilities for food and energy.
Its biggest asset: It would be on Earth.
Not to take anything away from space exploration, which deepens our understanding of the physical universe, but Earth exploration isn't exactly passé. That's especially true of the polar regions, which, as Doug Fox explains in a Monitor cover story, are now hotbeds of exploration and exploitation.
There are huge differences between the poles. The north is a sea surrounded by land – a frigid Mediterranean – and thus caught up in territorial claims. It is coveted as both a destination and a transit zone. The south is an ice-impounded continent moated by formidable seas. Isolation makes Antarctica one of the world's most cooperative scientific projects.
Polar exploration is a surprisingly young endeavor. It began seriously only in the mid-19th century during what is known as the Heroic Age. Its history is marked by dramas, mysteries, and eloquence – the lost voyages of the HMS Terror and Erebus, the stoic tragedy of Robert Falcon Scott ("We took risks. We knew we took them. Things have come out against us. We have no cause for complaint."), the epic endurance of Ernest Shackleton.
---