Home energy use gets a 'smackdown' on reality TV
Even an 'überenvironmentalist' family found it could save a lot more when a competition was at stake.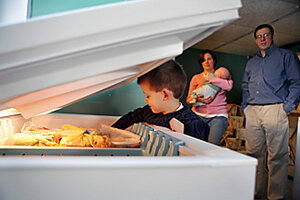 Melanie Stetson Freeman
Most Americans know they should decrease their energy consumption, but many need a push to do it. Three families in this suburb north of Boston got that incentive by appearing on "Energy Smackdown," a reality TV show in which contestants competed to shrink their carbon footprint. The program aired on a local cable TV station during August and September.
With lifestyles ranging from über­environmentalist to highly consumptive, each family was able to bring its footprint down by at least 30 percent in some surprising and "I can't believe I didn't think of that before" ways. All three teams found that, through a little friendly competition, making changes in their homes and lifestyles wasn't as hard as they thought.
"Before the competition, we were like most people, thinking we had gotten all the low-hanging fruit and done all we could," says Mieke van der Wansem of Team van der Nou. "Doing the competition made us realize there are some small things we can do around the house that aren't really that hard to get us over that plateau."
While Team Van der Nou (made up of Mieke, husband Steve, and young daughters Anneke and Sofie) was extremely ecofriendly to begin with, Team Moot Roosa Productions (featuring Alex Moot, Nancy Roosa, and children Ellis and Kaly) lived a more consumptive lifestyle that many Americans can identify with. The third family, Team EcoCluggi (Sarah and Jason Cluggish, with 4-year-old Sam), was somewhere in between, describing themselves as "normal people who are environmentally conscious."
---