As arctic ice melts, South Pole ice grows
Scientists are puzzled, but the phenomenon seems to fit the latest global-warming models.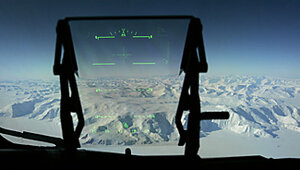 Ted S. Warren/AP/FILE
For decades, the vast expanse of sea ice that surrounds Antarctica each winter, and all but vanishes each austral summer, has languished as the Rodney Dangerfield of Earth's cryosphere.
Antarctic sea ice has gotten little respect, especially compared with its top-of-the-world cousin, or with the enormous ice sheets on Greenland and the Antarctic continent. The sea ice is hard to reach. It has little direct effect on people. And the Southern Ocean was not a cold-war playground for US and Soviet submarines, which amassed a wealth of information on changes in Arctic sea ice before the era of long-term satellite observations.
But as a research target, southern sea ice's stock appears to be rising.
Over the past 20 years, southern sea ice has expanded, in contrast to the Arctic's decline, and researchers want to understand why. Many climate-model experiments show the Arctic responding more rapidly than Antarctica as global warming kicks in. But after looking at the latest projections from the Intergovernmental Panel on Climate Change, "Arctic sea ice is well ahead of the models, and Antarctic sea ice is well behind what the models project," says Stephen Ackley, a polar scientist at the University of Texas, San Antonio.
---
Subscribe to Recharge
Get the Monitor stories you care about delivered to your inbox.