Can the crown jewel of world's coral reefs be saved?
Scientists and politicians are moving to protect the enormous biodiversity in the Coral Triangle – a critical marine nursery for tuna and other species.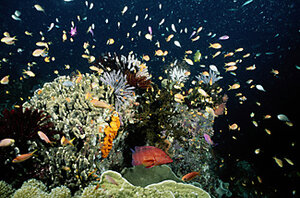 C. Wolcott henry III/National Geographic/Getty images/File
Nusa LembongAn, Indonesia
It's 10:39 a.m. on an overcast Tuesday when the skipper points his 40-foot pontoon boat toward a trio of islands off southern Bali. As he clears Benoa Harbor, he opens the throttle on three 250-horsepower outboards. Some guidebooks say the crossing takes 90 minutes. He makes it in 36.
As the boat closes on Nusa Lembongan, the nearest of the three islands, a pod of bottlenose dolphins appears off the starboard side – the first hint visiting landlubbers get of the marine riches these waters hold.
Now, local residents and businesses, conservation groups, and the Indonesian government are laying plans to preserve those riches. In February, the parties are scheduled to meet to begin figuring out how to set up an effective marine-management plan for the islands. The goal is to ensure that the islands' aquatic resources are used in a sustainable way while protecting its most ecologically important areas. It's part of an international effort to shore up the ecological health of a 2.3-million-square-mile expanse of the Indo-Pacific Ocean known as the Coral Triangle.
Sometimes called the ocean's version of the Amazon Basin, the Triangle bursts with the highest biodiversity of any reef system on Earth. Some 75 percent of all the known reef-building corals – 500 to 600 species in all – call the triangle home. By contrast, Australia's Great Barrier Reef hosts some 350 species, while Belize's reefs in Central America host 70. In addition, the triangle supports 3,000 species of reef fish, twice the number found along the Great Barrier Reef or along East Africa's reef network.
---