San Diego aims to fix a pollution problem by helping a Tijuana slum
A US team wants to clean up a river estuary by improving living conditions across the Mexican border.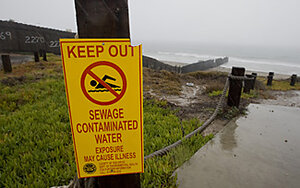 Fred Greaves/Special to the Christian Science Monitor
When it rains in Tijuana, it pours in San Diego. Runoff crosses the international border in gushes of floodwater, clogging everything in its path with dirt and debris.
A river, a wildlife-filled estuary, and the sea are all victims of this rainy-season menace, the product of a sprawling Mexican city where the poor often live without paved streets, running water, or sanitation.
Now, a cross-border team hopes to stem the tide of US-Mexican tensions and turn a Tijuana slum into an example of environmental activism. Their goal: Convince the community to devote its own time and effort to pave the roads in San Bernardo, a bustling neighborhood that becomes a bleak, muddy lake during heavy rains.
The plan, at least its initial stages, is to cover dirt roads with concrete blocks designed to hold water and allow it to seep into the earth. Residents, mainly women, are making the 70,000 "permeable pavers" needed for just the first half mile of road.
There are obstacles. For one, support by locals has been spotty. For another, the project is aiming to link both countries in a region long divided by language, disparities in wealth, and age-old resistance to cooperation.
Still, the project has plenty of potential beyond the small neighborhood. "The intent is to create an example," says Oscar Romo, an environmentalist and professor at the University of California at San Diego who's leading the effort. "I don't have the resources or the will to start paving the [entire] city. What I'd like to do is convince authorities on both sides of the border that this is an environmentally friendly way to pave the roads."
---