California toll road proposal voted down
Supporters of the proposed six-lane road through San Onofre State Beach vow to fight on.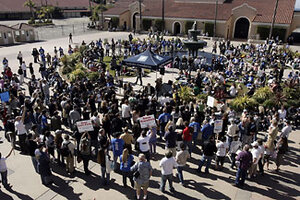 Ric Francis/AP
In a major victory for environmentalists, the California Coastal Commission rejected a proposal to build a six-lane toll road through the San Onofre State Beach park, a popular nature preserve known for its wildlife and world-class surf breaks.
After a marathon hearing before a crowd of thousands, commissioners in Del Mar, Calif., voted 8 to 2 against the proposed Foothill South toll road, a six-lane, 16-mile extension to Route 241.
The Los Angeles Times describes the spirited atmosphere of the hearing:
The vote, which was greeted by an enormous cheer, followed 12 hours of public testimony from the crowd, of whom 2,500 made formal requests to speak, the largest number for a hearing in the commission's more than 30 years of operation.
Some arrived by bus, brought by surf-industry companies opposed to the project. Others came as members of construction unions that support it. Some in the crowd carried surfboards as a symbol of protest. Others dressed as if attending a long-awaited football game.
The noisy crowd sat in rows of chairs and banks of bleachers at the rear of Wyland Hall at Del Mar Fairgrounds to participate in a long-awaited showdown over a road proposal that has generated intense public interest across the state.
---