Aged ships a toxic export
A looming spike in retired vessels could send tons of PCBs and asbestos to South Asia's 'ship breakers' before new international regulations take hold.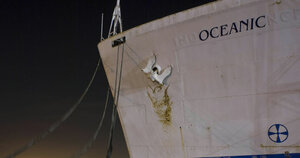 Scott Haefner
Somewhere in the Pacific Ocean, an empty passenger liner is being towed on her last voyage – bound possibly for one of the infamous "ship-breaking" beach­­es of Asia to be cut up and sold as scrap.
While the 682-foot SS Oceanic might still survive as a floating hotel or casino, her voyage is controversial. That's because the ship left San Francisco last month laden with an estimated 460 tons of asbestos and toxic PCBs embedded in its electrical and engine-room systems.
Just how dangerous that 58-year-old vessel would be if it is scrapped on a beach in the developing world, and how it managed to leave US waters despite laws prohibiting PCB waste exports are questions the US Environmental Protection Agency (EPA) is investigating.
But the Oceanic case also highlights a serious regulatory failure, observers say. While overseas scrapping of US-government-owned vessels is prohibited, scores of privately owned commercial ships flying the US flag have in recent years been granted permission to be reregistered and sold for scrap overseas with scant attention paid by federal authorities to the tons of PCBs they likely carry with them and in conflict with a US law banning PCB waste exports, the Monitor has learned.
In the US, such reregistering or "reflagging" of a ship under a new foreign owner for the explicit purpose of scrapping it overseas is a longstanding regulatory pro­cess overseen by the US Maritime Admin­istration (MARAD). Yet neither MARAD, the EPA, or the US Coast Guard routinely monitor whether ship owners are complying with warnings on the reflagging application that they must obey US environmental laws.
---