A new push to avert cell-tower bird strikes
As many as 50 million birds are killed annually in US cell-tower collisions. As more towers go up, builders and researchers eye solutions.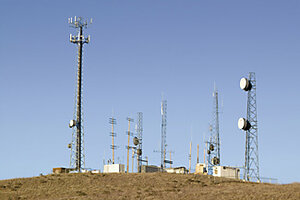 joseph sohm/newscom
On a pitch-dark night thick with clouds in September 2005, it began raining birds under an 1,100-foot television tower in Madison, Wis.
At the base of the tower the next day, researchers identified 400 birds across 23 species, including five types of golden-winged warblers – a migratory songbird listed as a declining species of "particular concern."
Chalk up one more sad case of a flock of birds striking a communications tower, a problem since such towers began popping up after World War II. (At least 14,000 birds were killed at another Wisconsin tower in 1965.) Yet hopes of solving the bird-strikes-tower problem are soaring.
"This has been an issue for 50 years," says Joelle Gehring, a biologist with the Michigan Natural Features Inventory in Lansing. "But in the past year and a half, for the first time, we have industry and conservation groups coming together to resolve it."
Migrating birds were already under big pressure from loss of habitat and collisions with vehicles, buildings, and power lines. House cats kill huge numbers. At least 4 million and as many as 50 million birds are killed annually in tower collisions, the US Fish and Wildlife Service estimates.
Communication towers are one of the fastest-growing parts of the problem due to the US passion for cellphones and high-definition television. Among about 96,000 towers listed in a federal database, some 22,000 new towers were listed as having gone up in just the past five years.
Last month the US Court of Appeals for the District of Columbia Circuit ordered the Federal Communications Commission to provide more citizen input and comply with US environmental laws including the National Environmental Policy Act when approving new towers.
---