Museums sprout 'green' architecture
A wave of energy-efficient architecture – and ecofriendly retrofits – is sweeping through public showcases.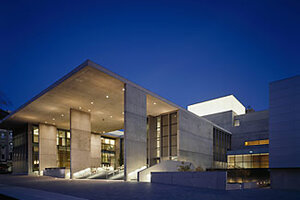 Courtesy of Steve Hall/Hedrich Blessing
Museums tend to be famous for what's on their walls. But at the new Grand Rapids Art Museum (GRAM) in Michigan, the art has taken a back seat to the walls themselves.
Last month, the $75 million, 125,000-square-foot building became the first art museum in the country to receive a LEED Gold certification from the US Green Building Council in Washington. (LEED, which stands for Leadership in Energy and En­­viron­­mental Design, is considered the benchmark for green construction.)
The fact that a second museum, the Museum of Contemporary Art in Denver, will soon gain Gold status is just one sign of the greening of US museums.
Forget Corinthian columns: Today's museums have features like green roofs – such as on the new wing at the Institute of Fine Arts in Chicago – or goats as part of the maintenance team, as at the Getty Center in Los Angeles, the first facility in the US to qualify for LEED certification on an existing building.
---