Wolf tracking in Minnesota's wilderness
On snowshoes and in aircraft, they pick up the trail of the celebrated predator as part of a wildlife retreat.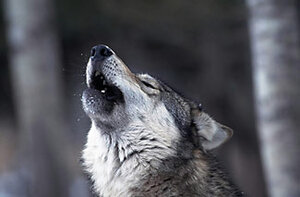 newscom
As the rental car cruises up Highway 1 just outside this small northern Minnesota town, on a bright late-winter afternoon, a solitary animal lopes across the road a safe distance ahead and disappears into the snow-draped woods.
The car's three passengers stop their conversation. Certainly not a deer or bear, one says. Too small. Not a coyote, says another. Too large. Could have been a dog, says the third. But that lope...
A wolf, a wild wolf.
A lone wolf.
Verified or not, it is a perfect opening for the adventure the three retired newspapermen are about to begin. And a perfect opening for a discussion, wordsmiths that we're supposed to be, of the origins of "lone wolf." Nobody is certain.
That and almost every other question about wolves you could think of is to be answered over the next four days. This is a trip to do two things. One, learn more about an animal that is loved devoutly by some but to others is the snarling Satan of lore that terrified villages and ate Little Red Riding Hood and her grandma. Second, to visit again one of America's grandest and least-known preserves, the Boundary Waters Canoe Area Wilderness along the Canadian border, a place of green abundance each of us first saw more than 50 years ago.
"Immerse yourself in wolf study at the International Wolf Center" in Ely, said the Elderhostel announcement. "Observe the resident pack of wolves and study wolves in the field," it went on, by walking the trails in snowshoes and learning the ways of locating packs from the air.
---